Catatan akhir tahun 2012 :
Met malam agan" sejagat dan setanah air. Makasi udah mau mampir di blog ane yang sederhana ini. Udah lama ane kagak bikin postingan, soalnya bingung mau nulis apaan (jadi grogi neh, hehehe). Ntar lagi kan mau taun baru 2013, jadi ane coba ingat" kejadian apa aja yang udah ane alami selama 2012 atau 'Flash Back' gitu (bahasa nenek moyang ane, hehehe).
Makin diingat makin bingung neh, soalnya hari" di taun 2012 adalah NIGHTMARE semua, benar" gak ada yang menarik. Jangankan bikin cerita,
ngingatnya aja ane udah males banget. Jadi, dari pada puyeng bikin cerita secara berurutan, mending ane comot aja lagu" di playlist yang kebetulan mewakili beberapa kisah hidup ane.
Sekilas Inpoh:
Awalnya ini postingan mau ane kasi judul 'Ini Ceritaku, Apa Ceritamu? Part.3'
(sambungan Ini Ceritaku, Apa Ceritamu? Part.1 & Part.2).
Namun karna sebagian besar yang ane tulis disini adalah lagu" yang ane suka
dan juga penulisannya tidak sesuai kronologi waktu,
maka oleh sebab itu, ane beri dia judul
'
10 Lagu Barat Gw Suka... Part.3
'.

Postingan Part.3 ini ane beri tema Soundtrack of My Life, karena ini adalah lagu" yang sesuai dengan kisah hidup ane (cihuy chuy, emangnye pilem aje yang punya soundtrack). Sebelumnya ane juga udah pernah nulis postingan dengan judul yang sama namun berbeda tema. Silakan agan cekibroot langsung ke tekapeh :
Okelahklobeggittuwww, langsung aja deh pada nyanyi
lets cekidooooot...
1. Green Day - Minority
Lagu ini adalah penyemangat ketika kebanyakan orang menghina dan memandang sebelah mata dengan segala ambisi ane. Kayak mereka yang paling pinter dan tahu segalanya aja. Sebagian besar hari" di taun 2012 ane penuh dengan orang" sialan ini. Baik itu dari keluarga, teman" yang pernah dekat ama ane, bahkan orang yang baru kenal. Lagu Minority ini sendiri bercerita tentang pemberontakan kaum minoritas yang sering dihina dan diintimidasi oleh kaum mayoritas. Intinya, ini lagu nyuruh kita untuk percaya pada diri sendiri dan tidak usah menghiraukan pendapat negatif orang lain. Yes setuju, "a free for all, f*ck 'em all" kate si Billie Joe Amstrong.
2.
Switchfoot - Only Hope
Ini lagu yang menemani jatuh bangun ane waktu nyari kerja setelah lulus kuliah. Lagunya slow dan sedih banget maknanya. Sering kali ane ampir nangis tiap kali dengar lagu ini sehabis gagal interview. Benar" bikin ane mau bunuh diri rasanya. Dari judulnye aja udah ane banget, Only Hope = ngarep. Makna lagunya sendiri adalah tentang seseorang yang menyimpan suatu keinginan kepada orang lain. Tetapi dia gak mengungkapkannya karena tahu kalo semua inginnya itu hanya harapan yang takkan kunjung nyata. Tapi yang bikin lagu ini jadi soundtrack hidup ane yaitu lirik "So I lay my head back down, and I lift my hands and pray" tiap kali gagal ane lakuin hal ntu, hehehe...
3. Sum 41 - Walking Disaster
Kemungkinan ini lagu menceritakan sebagian besar kehidupan ane (mungkin, ane sendiri juga gak yakin). Yah, apapun itu hanya ane yang tau bagian mana yang persis sama ama perjalanan hidup ane. Lagu ini bercerita tentang perasaan seorang anak brokenhome gitu. Kalo mau tau maknanya lebih mendalam, silakan agan terjemahkan sendiri liriknya. Soalnya ini lagu tragis banget dan penuh dengan kebencian dan amarah.
4. Linkin Park - A Place For My Head
Ada banyak lagu LP yang cocok ama kehidupan ane, bingung juga milih satu diantaranya. Tapi MP3 player ane melakukan pilihan acak dan lagu A Place for My Head terdengar dari speaker. Dengan demikian ane putuskan lagu ini menjadi sountrack of my life, kenapa? Karena lagu ini bikin ane ingat zaman kuliah dulu. Ane ingat bagaimana ane dapat sifat buruk yang akhirnya menjadi kebiasaan. Sifat ini bikin ane muak dan tidak sanggup lagi lihat pandangan dan penilaian orang" tentang ane. Tiga tahun memikul beban rasanya benar" ingin keluar dari lingkungan itu dan berharap bisa menemukan tempat lain. Lagu ini bercerita tentang penderitaan seseorang yang ingin keluar dari kejahatan yang diharuskan kepadanya. Semua liriknya cocok ama perasaan ane waktu itu. "Balikin, oh oh balikin, kehidupan ku yang seperti dulu lagi" kata Slank. Yeah, kurang lebih gitu deh perasaan ane, bahkan ampe sekarang.
5. My Chemical Romance - The Kids From Yesterday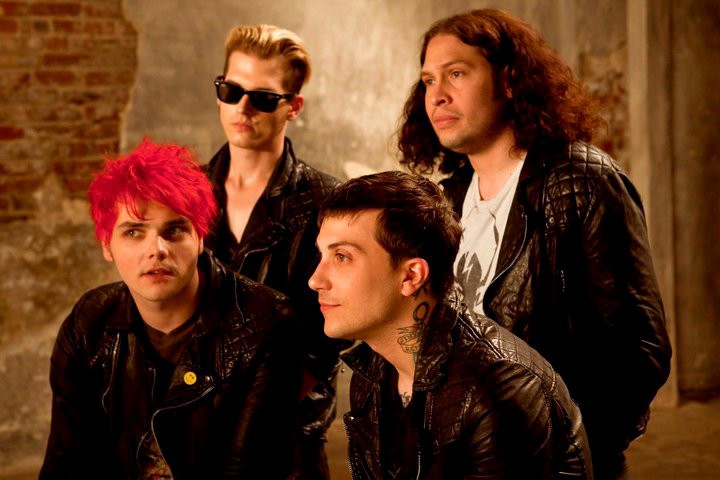 Ini salah satu lagu andalan di album ke-4 MCR yang bercerita tentang anak" (kids) yang selalu diremehkan di masa lalunya dan sekarang mereka sukses dengan tidak pernah menoleh kebelakang (masa lalu) lagi. Lagu ini sesuai ama kisah ane semasa sekolah dulu, sering dipandang sebelah mata, tapi ane jarang menghiraukan, sesuai lirik lagu ini, "you only hear the music when your heart begins to break". Yeah, mending dengar musik sambil teriak" gak jelas dari pada mikirin kata" yang gak berguna dari orang" sekitar lu.
6. Coldplay - Fix You
Hampir sama dengan yang no.2, ini adalah lagu penyemangat ane ketika menghadapi kegagalan dalam berbagai hal (seperti gagal interview lagi). Gak membantu sih, karena lagunya slow banget dan kata" di lagu ini yang menunjukkan bagaimana rasanya menghadapi suatu kegagalan. Tapi liriknya benar" mengena di hati dan bikin ane sering merenung. Agan dengar aje deh.
7.
Vitamin C - The Graduation Song (Friends Forever)
Wuuaaa..... kalo dengar lagu ini, ane benar" kepingin nangis. Oleh sebab itu, lagu ini gak pernah ane tarok di playlist lagi. Lirik lagunya benar" mengingatkan ane dengan 8 sobat" karib di jaman kuliah dulu. Semua kata" di lagunya adalah hal" yang 90% ane pernah lakukan dan pernah menjadi pikiran ane selama kuliah. Rasanya waktu cepat banget berlalu. Ane masih ingat kebiasaan kita jalan" kesana-kemari, nongkrong di sekre Himatika, cerita" lucu saling menghina, ketawa" gak jelas, saling contek tugas kuliah, dan lain sebagainya yang benar" bikin kangen dan kepingin balik ke masa itu lagi. Wuuuaaaaaaaa..... "
As we go on, We remember, All the times we had together, And as our lives change, Come whatever, We will still be Friends Forever". T_T
8. Shades Apart - Stranger by The Day
Ini adalah lagu lama sountrack pilem American Pie yang kebetulan juga menjadi sountrack pilem dalam hidup ane. Perasaan aneh dan merasa asing dengan hari" hampir selalu ane rasakan setelah tamat kuliah dan menjadi pengangguran kelas teri, apalagi sejak menginjakkan kaki di kampung halaman nan jauah di mato ini. Semuanya semakin asing dan aneh, baik itu lingkungan kota maupun orang" disini. Yeah, 4 tahun merantau cukup untuk mengubah pola pikir ane memahami kehidupan. Semua yang ada disini gak sesuai dengan jalan pikiran ane emang. Ane benar" ingin keluar dari kota ini.
9. The Rasmus - In The Shadows
In The Shadows, cocok banget ama ane yang masih dalam bayang" masa depan. Ini juga salah satu lagu yang menemani jatuh bangun ane di tahun 2012 dalam menghadapi berbagai kegagalan. Semua kata" dalam lagu ini persis dengan apa yang ada dalam otak ane. Di antara semua, ini adalah sountrack utama dalam hidup ane di taun 2012 ini. Kayaknya semua yang ane lakukan di taun ini seperti "walking walking in circles, wathcing, waiting for something". Pokoke agan dengar aja deh, lagunya keren abiez.
10. Simple Plan - This Song Saved My Life
Yeyeyeyeyeye, dan sampailah kita di sountrack of my life yang terakhir. This Song Saved My Life. Judulnya mewakili semua sountrack yang kagak bisa ane tuliskan di blog ane ini, ada banyak lagu" barat yang sesuai dengan kehidupan ane dari berbagai penyanyi. Yeah, intinya semua lagu" itu mungkin diwakilkan oleh judul lagu dari Simple Plan aja. Tapi lagu Simple Plan dari album pertama ampe yang keempat (saat ane nulis artikel ini) rata" ampir sama ama kisah hidup ane. Mungkin yang paling ngena adalah yang judulnya Welcome to My Life. Namun sebagai perwakilan semua band yang kagak sempat masuk sini, jadi ane pilih yang judulnya This song saved my life, walaupun sebenarnya makna lagunya bukan kisah ane secara keseluruhan. Dari sini mari ane tarik kesimpulan bahwa sebagian besar kegagalan dan kesedihan yang pernah ane alami hanya tertolong dengan mendengarkan lagu. Dengan mendengarkan lagu" ini, pikiran ane bisa lebih tenang dari pada curhat ama orang lain. Ane hanya butuh mendengarkan lagu kalo lagi stuck atau sakit ati.
D
an demikianlah 10 Lagu Barat Gw Suka...Part.3 dengan tema Sountrack of My Life. Masih ada banyak koleksi lagu" barat yang enak didengar di playlist ane. InsyaAllah Part.4 akan segera menyusul, Don't miss it, hehehe_____________________
bersambung